If you recently moved into a new house that is considerably smaller than your previous house, organizing your space can be a little bit of a headache.
Maybe you only started noticing a reduction in your house space as you began acquiring new items for your house.
Whatever the case, having a small living space can be a very awkward experience. But not to worry, you only need to get a little creative even if you are on a budget.
Here are some creative ideas to organize your small space and maximize it to your satisfaction. I will divide them into sections for ease of navigation.
I give credit to CraftyHacks.com and JennaKateAtHome.com for most of the creative ideas for organizing small spaces, as you will see in this post.
You may not have a lot of floor space, but there is generally plenty of vertical space in every house or apartment. Your walls are not left out.
Below are some creative ideas to maximize your vertical space and get your room organized.
1. Vertical corner shoe rack
Look for any vertical space that would not fit in large appliances or objects and create a fitting shoe rack into it as displayed above. That way you can store your shoes into it and maximize your room space.
2. Floating box shelves
This is a simple way to maximize space that would otherwise be unusable in your room. By installing wall shelves in the shape of multiple boxes, you can creatively save space in your room and get your things organized.
3. Multifunctional shoe rack
This not only makes more room from your vertical space but could also add some aesthetics to your room. Imagine this vertical shoe rack standing beautifully in one corner of your room with a beautiful flower on the top.
4. Rotational shoe rack
If you have a lot of shoes to store and there is considerable space in your wardrobe area, you can install this rotational shoe rack on one side and hang your clothes in the adjacent area. There are enough spaces in this rack and nothing stops you from storing other items in it.
This equipment may be significantly expensive but if it is something within your budget, it will definitely be worth it.
5. High near-ceiling shelves
You can have a high-ceiling shelf to store your books, flowers, plaques, framed pictures, etcetera. This is a very creative way to maximize space high up and organize your room.
Depending on how the room is structured, you can make the upward shelf go around the entire room and further create more room for storage.
6. Foldable wall shoe rack
This foldable wall shoe rack is made of wood specially attached to a hinge on the wall. It can be raised to lie parallel to the wall or dropped as a horizontal surface on which you can keep your shoes.
This shoe rack offers an opportunity to maximize vertical space in your room while still allowing you to recover the space when you don't need it. It is thus a beautiful option when you have a lot of shoes to keep and your room space is minimal.
7. Above-the-door shelf
An above-door shelf offers a creative storage idea where an above-ground space is created over the room door using a flat board. The space can be used to store towels, clothes, bedsheets, and other similar items. You can also keep other small items on the board to save more space in your home.
8. All-in-one wall storage
This creative storage idea converts your wall into a wardrobe, bookshelves, sitting office space, and shelves for other items including shoes, bags, and a football if you have one.
This option is an inexpensive way to create more space and organize your room when the space is small. A light ladder would be helpful in accessing the items at the top that are not easily within reach.
9. Multi-wall rack/shelves
You can set aside a section of your home exclusively for storage. A section of the wall can then be converted into a shoe rack, and other sections into your wardrobe, drawer, as well as shelves for bags and clothes.
10. Wall pocket racks
These pocket racks can be used to house several small items including scissors, cardboard, pens, hair brushes, and so on. A variant of this rack containing several shoe-sized spaces can also be used to store shoes on the wall. (picture not included here but it's basically the same as above but with up to 12-16 shoe spaces on the sheet and supported on the wall).
B. Put low spaces beneath furniture to use
While you want to maximize your vertical space, also remember that there are a lot of spaces down as well. Creating a storage space beneath your furniture is one of the simplest ways to organize your home and get more useful space, especially in your bedroom.
You should not only think about storage when organizing small spaces in your home but also consider functionality. For example, fitting electrical plugs inside tall cabinets can allow cordless or short-cord gadgets to charge while being neatly put away.
Here are some more creative ways to make space beneath your furniture and organize your room space.
1. Shelves beneath the table
This multifunctional table can serve as a flat surface for storing items like picture frames, cups, jugs, flower vases, mobile phones, and even your computer if you need to keep it there.
Beneath this piece of furniture are well-compartmentalized shelves that can take a number of items and increase your available room space. This also aesthetically organizes your room in a way that allows you to easily access what you need when you have to.
2. End-of-bed Ottoman Bench Shelves
The end-of-bed ottoman bench which can be neatly positioned at the foot of a high bed is designed to have several cuboidal shelves at the exterior. These shelves can house items like shoes and socks.
Not to forget that the space beneath the bed can also be converted into a useful storage space as well.
3. A platform bed
A platform bed is another effective way to maximize your room space and organize your belongings. It involves making a high bed with storage space beneath it for keeping other items in the room. It usually has a wooden ladder to allow you to climb on the bed when you want to sleep.
4. Large under-bed drawer
Large under-bed drawers offer another creative opportunity to utilize the space under your furniture. Instead of closing up the space under your bed frame, ask your carpenter to make a large drawer instead.
You can also maximize the above-ground space by installing any type of wall shelf or racks highlighted earlier.
5. Below-bed rolling board shelf
A large rolling-board shelf is another creative way to utilize the space beneath your bed. This space can be used to store and organize your shoes and other similar items.
6. Multifunctional pull-out furniture
Pull-out shelves offer a neat way to store any small item in the home. This multifunctional drawer is made to have a channel through which electrical charging wires can pass to neatly store away mobile devices when they are in charge.
The additional space can house a number of other items in the home, and the lower compartments can house larger items to save room space in the house.
C. Think boxes, baskets, and containers
Boxes, baskets, and containers are practical ways to organize and maximize space in a small room. These can be used in combination with other ideas mentioned above.
If you have enough room under your bed, in the cupboard shelves, or on the above-ground shelves, you can fill the space with transparent plastic bins, baskets, or containers, as you will see below.
1. Transparent box container
With a boxed container, you can stack items on each other and then store them away in the shelves, or under furniture. This is a highly creative and affordable way to create room and organize spaces in your home.
2. Dollar store bins
You can easily get these at the dollar shop or at Target. Those who know the usefulness of these bins in optimizing room space do not take them for granted.
If you live in a rented apartment where you do not have much freedom to change things around the house, this creative storage container can give you more room space and also help you make the rented apartment feel like the home that it is.
3. Closet box organizer
With a little creative effort, you can turn a closet in your room into a sliding support for this kind of container. You can easily store your baby's clothes, towels, and underwear in these containers and then slide them over the supporting anchor provided.
4. Woven baskets
In place of plastic baskets, woven baskets can further add aesthetics to your room space.
D. Others
1. Scavenge for unused spaces
Hunting for unused spaces is something to consider when you are in need of space and room organization. Those forgotten nooks and crannies, and blank walls can be efficiently utilized if you think creatively enough.
If you have a staircase anywhere in your house, you can utilize the unused space under the stairs to house certain items and create sufficient room in your house.
Imagine shelving an underused fireplace with books or baskets, or boxing some items up under the staircase. Quite a creative idea, isn't it?
2. Discard or sell
Finding everything you've stashed away is important when organizing small spaces. It helps void unnecessary repurchases and eliminates waste from disuse.
It also helps you know which things you don't genuinely need. Sift through your belongings and give or sell out whatever you haven't used the previous year to create more room space for you to organize your house.
Clear containers are ideal for quickly identifying what you need. The best part is that you can get creative with the label maker or chalk markers to show what's inside a clear container.
3. Think multifunctional
Again, when it comes to organizing small spaces in the home, functionality is essential. Or should we say multifunctionality?
A multifunctional approach makes it possible to use an item or storage option in more than one way.
For example, a piece of multifunctional furniture can serve as a dining table, bed, or sofa, thus efficiently using the space you have available. Also, you can turn your room into both a bedroom and an office space by using the right multifunctional furniture.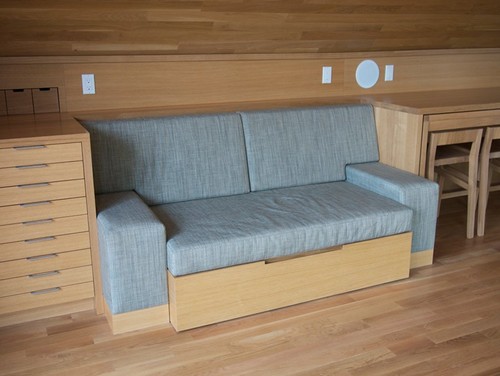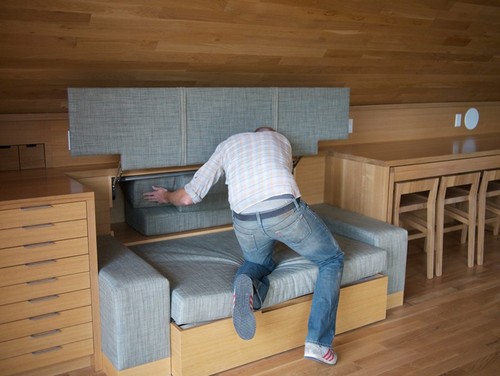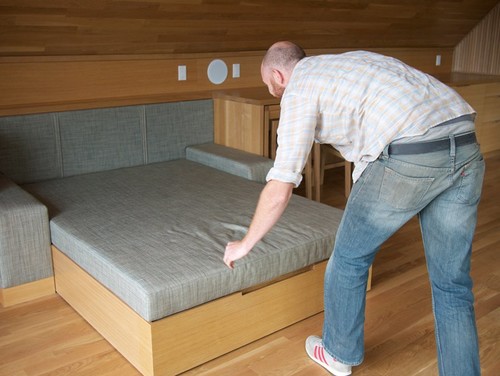 4. Avoid massive furniture
Large and cumbersome furniture will clutter your small living space. So consider buying smaller-sized furniture to maximize your square footage. Having custom-made furniture suited for your apartment is the best way to achieve this.
Even if you don't like a minimalistic appearance, you can apply colors together to create an illusion of being larger. For example, a large colorful rug on the floor with white walls and a few mirrors can create an illusion of a few more square feet in your house.
5. Create room/section divisions
Room divisions help to partition your small room space for better organization. This helps you manage your available space more efficiently.
For example, by using a room divider, you can partition out separate sections like the home office section, book storage, or dining section, in your small room when those other sections do not exist al-binitio.
You can further install vertical dividers in cabinets and shelves to organize things better in your room. For example, vertical dividers in kitchen cabinets can be used to store dishes and chopping boards to prevent taking out several trays to find the one you need.
Conclusion
Things can get clustered up and disorganized when you are living in a small room. The good thing is you don't really have to spend so much to get organized. This post showed you some creative ideas to organize your small room and create more space in your home.
I hope you enjoyed it.